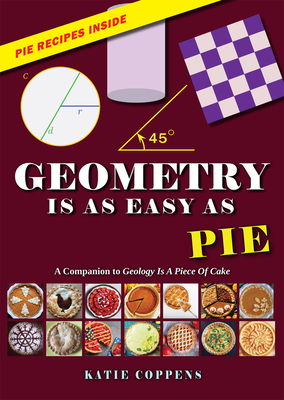 Tumblehome Books. 2019
Caution: This book will inspire you to play with geometric concepts…and your food!
Katie Coppens has written a delightful book for elementary and middle schoolers that covers an array of geometric concepts through pie. From concepts of symmetry to tessellations, polygons, angles, and measurements, Coppens links basic geometric concepts to pies of all sorts. The text is direct and straightforward and will leave readers itching to try the concepts, and the recipes, themselves.
This book looks appealing from page one. It features delicious looking pies, diagrams to clarify and explain geometric principals, and step-by-step recipes illustrated with photos of pies in progress.
This physical means of teaching geography is a brilliant approach, and what kid would complain with a delicious snack as the result?
Coppens is a teacher and she definitely knows how to interest kids and how to cover geography concepts clearly. Although the text is concise, the reading level is a bit high, in part because the book has a lot of domain-specific vocabulary. Although some gifted kids may take off and devour this book on their own, I think most kids will benefit by working through the book and the recipes with a parent or teacher. As I write this review, the country is locked down because of the COVID-19 pandemic. It might just be the perfect time to work through this book as a family. When they return to school, the kids can wow their teachers with their geometry knowledge!
Teachers and homeschoolers should note that in addition to the recipes and hands-on practice such as decorating your pie with tessellations or parallel and perpendicular latticework, there are also thirty meaty geometry questions in the book and an answer key on the publisher's website. In addition, there's a great glossary and an eye-popping array of pie inspiration pictures.
I highly recommend this book. And after I finish making pie, I'm heading online to check out Geology is a Piece of Cake also by Katie Coppens.