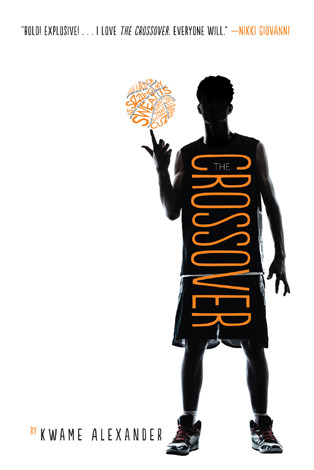 Houghton Mifflin Harcourt, 2014.
When twins Josh and JB are nearly thirteen they rule their school's basketball court. They are the best of friends and caught up in the game. After school and on weekends they practice with their dad, an ex-pro ball player. Dad regales them with stories of his past and lives by his ten basketball rules.
Basketball Rule #1

In this game of life
family is the court
and the ball is your heart.
No matter how good you are,
no matter how down you get,
always leave
your heart
on the court.
Josh will need all ten of his dad's rules to navigate this challenging year because high school is looming and suddenly the people he depends on — and sometimes takes for granted —  are changing.
This novel in verse rings with the joy and energy of competition. It hums with the love of a close-knit family and boils and sobs with the pot of emotions as life bubbles on and over and through the characters. The story is beautifully told and will appeal to basketball lovers and word nerds alike, especially those who, like Josh, find themselves unexpectedly in a world where relationships are changing and emotions and hormones blaze uncontrollably.
Read The Crossover expecting to be drawn in: drawn in to the language Josh delights in, drawn in to the play-by-play of his games, drawn in to the love and frustrations of a family, drawn in to the anger that comes when life suddenly changes and you do not understand nor have the skills to manage it.